Ivy Creek United Methodist Church

Charlottesville, VA
Christian Arts Academy - Summer 2021
Esther: Made for a Time Such as This
A Camp-At-Home Adventure for Kids Ages 4-7
Day 2
Please text /email pictures
of your crafts, cooking, and activities ANYTIME
to 434.260.0702 or ivycreek.christianarts@gmail.com.

We will be proud
to post them on our website!
Ivy Creek United Methodist Church

674 Woodlands Road
Charlottesville, VA 22901
Copyright © 2021 Ivy Creek UMC Christian Arts Academy

Ivy Creek UMC
Christian Arts Academy
Welcome back to Christian Arts Academy 2021!
Dive in to find God in the arts and learn how
GOD CREATED YOU,
just like Esther,
FOR EXACTLY THIS MOMENT IN TIME!
Sing Along with Miss Emily and Friends
Arts & Crafts - Make a Royal Scepter
What is the most important quality in a leader?
TRY THIS AT HOME!
Requires your own materials.
Be safe. Be sensible. Get permission.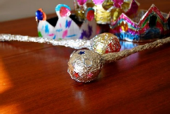 A scepter, like the one King Xerxes had, is a ceremonial staff, seen as a symbol of power. Scepter is from a Greek verb meaning to lean on something, or prop oneself--as one could do with a staff!
PLEASE NOTE: If you can't get our embedded videos to play, go to the settings menu for your browser app and enable/allow "Cross-Site Tracking." Refresh your page, and you should be fine. If you still can't get the videos to play, downloading them is also an option. Enjoy!